NEWS
Hamptons Weekend With the Stars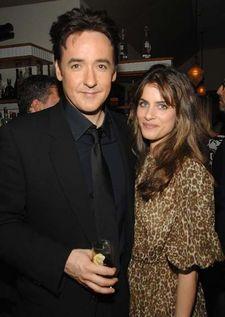 The 15th Annual Hamptons International Film Festival brought life back to the beach over the weekend, as stars such as Harvey Keitel, John Cusack, Keri Russell and Lisa Kudrow dropped in to support their recently sold, for-sale or soon-to-be-released films. OK! went beyond the velvet rope, sat front row for all the action, hosted a dinner party for My Sexiest Year and caught up with the festival's rising stars.
Article continues below advertisement
Thursday, Oct. 18, 2007
After checking into The Hedges Inn, a quaint bed and breakfast a short walk from the theater in East Hampton, we went to see My Sexiest Year. Recently acquired by ThinkFilm, My Sexiest Year is a coming-of-age tale set in the 1970s. Harvey Keitel stars as the estranged father to Frankie Muniz's character, Jack, who moves from Brooklyn to Miami to live with his gambling father after his mother becomes ill. The curve ball leads Jack to his celebrity crush, Amber Valetta, and on a path that will forever change the lives of everyone involved.
Although Amber had to stay in L.A. to celebrate her son's birthday, after the film OK! had the privilege of hosting a dinner party at Prime 103 for castmembers including Harvey, Frankie and model Karolina Kurkova, who made her big-screen debut in the film. In between courses, Karolina told us she hopes this film is just the beginning of her acting career, Frankie said he'd rather drive race cars, and Harvey shared a story about being in the steam room at the YMCA and overhearing two men who couldn't see him through the steam talk about a movie they saw and didn't like. The movie was Mean Streets, starring Harvey Keitel. This time everyone in the audience had only positive things to say about the movie and Harvey's performance! You can read all about the dinner in an upcoming issue of OK! and see My Sexiest Year in theaters this summer.
Article continues below advertisement
Friday, October 19, 2007
Supporting rising star Jess Weixler, we went to see Teeth, one of the Sundance Film Festival's most much-buzzed-about films (it hits theaters late this year). Be warned: The film is about a teen, played by Jess, who has a medical condition called vagina dentat, which she discovers the hard way when she dismembers — using teeth not in her mouth — a classmate who forces her to have intercourse. Despite the film's subject matter and graphic gore that can be described as, at best, disturbing, Jess' talent and charm shine through and should give the actress, who resembles a young Alicia Silverstone, opportunities for more commercial-friendly films in the future.
Saturday, October 20, 2007
The cast alone of the closing night film, August Rush, was enough to pique interest. Starring Keri Russell, Jonathan Rhys Myers, Terrence Howard, Robin Williams and young actor Freddy Highmore, August Rush is a musically driven romantic drama about a 10-year-old prodigy, played by Freddie, who is orphaned at birth and literally uses the music in his head to find and reunite his parents, played by Keri and Jonathan. During the last few minutes of the film there was hardly a dry eye in the house. When we caught up with musical supervisor Anastasia Brown afterwards, she revealed that there were only 60 seconds in the 100-minute movie without a musical score. For me, Jonathan Rhys Myers' actually singing and playing the guitar in his role as a rock band front man is reason enough to see the film that opens nationwide Nov. 21.