NEWS
Hannah Montana Goes "Back to Tennessee"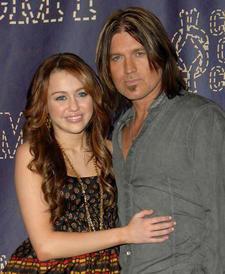 Back to Tennessee isn't just the title of Billy Ray Cyrus' new album. It also describes the journey the upcoming Hannah Montana film took.
"When I read the initial script, it was all about me bringing Miley home to Tennessee, and we were going to go film it in Louisiana. To me, that was a red flag," Billy Ray tells OK! at the CMA Music Festival. "I called a few different people, and I said, 'Wait a second, I really feel that Tennessee is the right place to make a movie about coming back to Tennessee.'"
Article continues below advertisement
The singer's efforts paid off. After scouting his hometown, the 46-year-old sent Disney big wigs photos he took himself of prime shooting locales, causing the studio to finally give in.
Any lasting doubts execs had about the location switch flew out the window when they arrived in to last week to check up on production.
"Disney came here last week, and they pulled me aside and said 'thank you for bringing this film to Tennessee,'" Billy Ray says. "They said 'we couldn't have built this set whether we filmed it in Louisiana or whether we filmed it in Hollywood.' Not only is it the best place for the film, but we're saving money by coming to Tennessee."
Although the country star is proud of his endeavor, he hesistates to take full credit for the change.
"The bottom line is Tennessee sold itself," he says. "I brought it to the table and said, 'I think it's the right thing to do.' It's a great state. I'm really proud of it."
By Valerie Nome