NEWS
Happy Halloween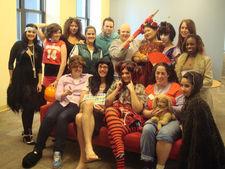 I don't understand people that say they don't like Halloween. Sure, you can spend an insane amount of money on an outfit you may only wear once, but if that's your gripe you can make something out of almost anything! Like most things, creative is usually better than pre-packaged anyway.
One of my favorite costumes this year so far is actor Greg Bello's. Last night at a Tmobile party at the Bowery Hotel he told me he and his agent are going as, "Dick in a Box," a play on Justin Timblerlake and Andy Samberg's Emmy-winning SNL skit where they parodied sex ballad music videos of the late 80s singing the now infamous song. All they have to do is put a gift box over their privates, pull their finest 80s duds out from the back of their closets, give themselves a bouffant or bad comb-over and they've recreated the ficticious Casanova, 80s-style duo.
Article continues below advertisement
Other good ones I've heard are an Ellen DeGeneres impersonator with a puppy strapped to her ankle and our web entertainment editor Ali is wrapping her arm in edible necklaces and going as Arm Candy!
Halloween is the one day anyone can pretend to be someone they're not and it's ok and even shy girls can dress sexy and say, 'It's all they had left." It's also, sweets-wise, the start of the holiday season where we tend to over-indulge in a bit of candy and not feel too guilty- although, I think that those of us who manage to refrain (because we're wearing a bikini in Puerto Rico in 48 hours) should lose weight on principle. But, since that idea is as pretend as the costumes…
Enjoy this photo of the courageous bunch of OKers who got in the spirit before dark and have a happy and safe Halloween!