NEWS
Harold Perrineau: From Lost to Unusual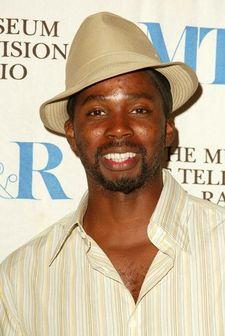 Harold Perrineau is no longer Lost.
The actor has moved on to a new show, The Unusuals, premiering tonight.
My Los Angeles counterpart, OK!'s Carole Glines, caught up with Harold backstage at the live broadcast of Dancing with the Stars, where he talked about his new series.
"I play detective Leo Banks, who just turned 42, and all the men in his family died at 42, so he's a little nervous about his own fate.
Article continues below advertisement
"He takes extra precautions with everything he does—flame retardant clothes, anti-bacterial stuff, bullet proof vest—just to be sure," Harold laughed.
The star revealed that his partner, played by Adam Goldberg, is just as odd because he has a brain tumor.
"He hasn't told anybody and he's trying to find a really great way to die in the line of duty," Harold explains.
Well known for his Lost stint, Harold compared the two shows for us.
"The only stranger island than the island of Manhattan is the one on Lost," he declares.
"We're still in some crazy places, but maybe not as crazy as that. We're having a good time and it's not as desperate."
The 45-year-old actor said while his character feels like he lives on borrowed time, there are things he'd also like to accomplish in real life.
"All the things I want to do I'd better do in the next 15 or 20 years before I run out of energy."
Article continues below advertisement
Harold said he recently achieved one goal by adding to his family with wife Brittany.
The couple, who are already raising daughter Aurora, 13, had another daughter, Wynter, last year.
"We have a new princess," he said of Wynter, who turns one in May.
In addition to that, he wants to "get a black belt in martial arts. I'm studying Brazilian jujitsu."
Would probably come in handy on either island!?
The Unusuals premieres Wednesday, April 8 at 10 p.m. on ABC.