NEWS
Harper's Island: The Groom speaks!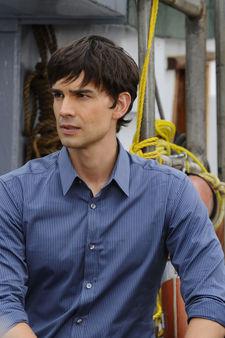 Christopher Gorham must have a thing for the name "Henry."
He played Henry Grubstick, the surprisingly hunky accountant on Ugly Betty who was Betty's star-crossed lover in seasons past.
Now the Jake 2.0 alum has joined the cast of Harper's Island as Henry Dunn, the pauper groom set to marry a real-life princess. (That is if he can make it to the altar!)
While the names are the same, Christopher says there are some major differences in the two Henrys.
Article continues below advertisement
"Henry Dunn is very much a traditional leading man type of character. He's smart and mature," Christopher shares.
"He's a good friend to Abby, whom he's been close to since they were kids, and he tries to be a good brother to J.D., despite the tension between them."
With strong ties to the island since he was a kid, despite the murderous secrets already lurking in its topsoil, Henry, "cares deeply about Harper's Island," Christopher explains. "He has a sincerity to him, without being goofy, that was refreshing to play."
Or it could just be refreshing to play a killer, eh Chris?
"Henry is definitely a suspect but, of course, so is everyone else," he teases, adding the cast didn't know who the culprit was when they first started filming.
"We burned through every theory under the sun trying to figure it out. We were the first audience and we were hooked," he declares.
Hopefully, not literally!
Harper's Island premieres Thursday, April 9 at 10 p.m. on CBS.