NEWS
Harper's Island: Here Comes the Bride!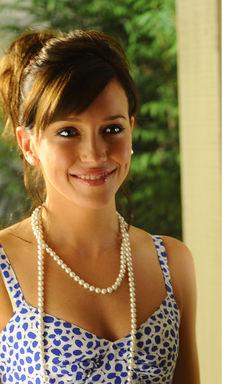 It's time for the bride, Trish Wellington, to get her due on Harper's Island.
But maybe this should have been the wedding that's called off, since all the guests keep dying!
But it's worth it, according to Katie Cassidy, who plays the woman of the day.
"Not only did I get fitted for beautiful wedding dresses, but I got to do all the things brides do," she says.
Katie even got some real-life experience to prep for the role.
Article continues below advertisement
"One of my best girlfriends was actually getting married while I was shooting so I got to shadow her in a way," she says.
"I helped her pick her cake and saw what an overwhelmingly beautiful and emotional experience all of it is."
Of course, brides are known to lose it as the big day approaches.
Could the stress of planning for the big day, turned this sweet and innocence bride to a manicial killer?
"I wouldn't quite say she's a Bridezilla, but you never know," Katie jokes.
Harper's Island premieres tonight, Thursday, April 9 at 10 p.m. on CBS.