NEWS
HARPER'S ISLAND: Meet the M-O-H!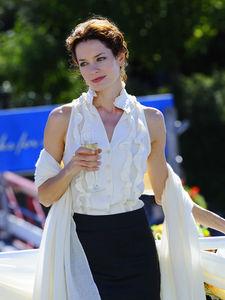 I've been a M-O-H four times. From experience I can say not killing the bride is an accomplishment.
Of course on Harper's Island, the new murder mystery serial premiering this week, that doesn't stop Shea Allen, the matron of honor for her little sister's nuptials, from being a suspect.
"As the wedding day approaches and Shea begins to lose control of certain situations, she begins to unravel," says her portrayer Gina Holden.
Article continues below advertisement
Indeed, the woman who seems to have it all does have some problems. Her husband's a letch and her pre-teen daughter is channeling Tuesday from The Addams Family!
"When we feel that our family -- be it a sibling, spouse or child -- are in jeopardy, even the best of us, at times, might do just about anything necessary to protect them," Gina continues.
Even though the M-O-H can be a thankless job, Gina says playing one was a great experience.
"Mysterious things start to happen on the island and her perfect world and need to have the perfect wedding for her sister made it really fun," she says.
"Shea was trying to hold it all together for the sake of her family, but inside she was falling apart."
Let's hope the rest of her insides stay put!
Harper's Island premieres Thursday, April 9 at 10 p.m. on CBS.