NEWS
Harry Connick Jr.: I Was a Nerd!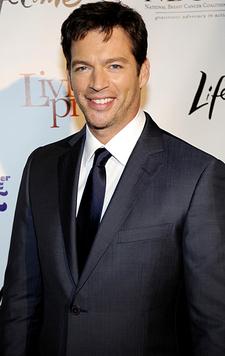 His cockeyed grin raised the ratings of Will & Grace, bolstered Broadway in Pajama Game and helped Hilary Swank recover from her husband's death in P.S. I Love You.
Now Harry Connick Jr., 41, is set to melt hearts again in the romantic comedy New in Town. He plays Ted Mitchell, a Minnesota union leader at a factory that's being restructured by Miami hotshot Lucy Hill (Renée Zellweger). Of course, as soon as Lucy and Ted lay eyes on each other, misunderstandings, pratfalls and eventually romance ensue.
Article continues below advertisement
These days, the Grammy-winning artist lives outside New York City with his wife of 14 years, former Victoria's Secret supermodel Jill Goodacre, 43, and his three daughters: Georgia, 12, Sara Kate, 11, and Charlotte, 6. Passionate about his native New Orleans, he has been tireless in his fund-raising efforts for the victims of Hurricane Katrina.
OK!: In New in Town, your character is a blue-collar guy who's surprisingly caring. Is he anything like you?
He's methodical and patient. I am not those things. I am much more spontaneous and impulsive.
OK!: Like when you met your wife, Jill?
When I saw her, I did a triple take. I went right up to her and introduced myself. I had
never seen anybody that pretty in person.
OK!: What are her best qualities?
She's strong, very secure and extremely smart. I have learned a lot from her, and I continue to.
OK!: Do the two of you still manage to have date nights?
Article continues below advertisement
Yeah, for sure. I mean when I am home – we don't really go out on dates. We are kind of boring actually. We like to stay at home a lot. We really kind of dig being at home. Then when we do go out, all we do is talk about our kids. We like to look at pictures of them in albums. It's pretty silly. But we do go out on dates, hang, and we have a good time. I do think spending time together is important.
OK!: What are you planning for Valentine's Day?
Valentine's Day? I can't stand it! You're forced to do something that you're supposed to be doing the other 364 days of the year. We've never been big on candy or roses. It's corny.
OK!: What's the best part about living in a house full of women?
I get to hear what girls really think. There will be a boy they go to school with who's gawky or awkward, and I'll hear one of my kids say, "Oh, he's cute, though. I really like him." That makes me feel good because that was me — I was the nerd who played the piano.
Article continues below advertisement
OK!: Do you ever take them all out shopping?
I love it! One of my favorite things in the world is taking my girls to get their fingernails done. I love it. I will just sit there, and read magazines. That's my life! That's the gift that I have been given, and I really appreciate it. I really dig it. I also love throwing a football with them too. But I love watching them try on clothes, and things. It's just fun!
OK!: Do your girls ever travel with you when you go on the road?
I went on tour in Asia about a year ago, and I took my two older daughters with me. I yanked them out of school for about three weeks, which didn't go over well in certain circles at the school laughs. But I try to keep their normal schedule going as much as I can. I can't say I help them with their homework, though. I can't even do my fifth grader's math homework. My seventh grader is doing algebra — but my brain doesn't work like that.
OK!: Like Brad Pitt, you've worked to build new housing in New Orleans after Hurricane Katrina. Have you met him?
I met him years ago, very briefly. I actually wrote him a letter to thank him for what he's doing. I don't know if he even got it. But if I ever see him again, I'll thank him again, because the benefit to the city is unimaginable.