NEWS
Has the Beckhams' Bubble Burst?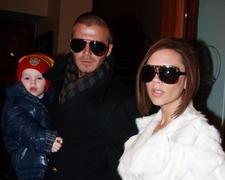 Just eight months ago, David Beckham and wife Victoria "Posh Spice" Beckham were the toast of the town at a dazzling "Welcome to L.A." party held by new pals Tom Cruise and Katie Holmes. But sources are telling OK! that they might be waking up from their American dream sooner than expected.
"David is very close to his family and would much rather be living in the UK," a source close to the couple tells OK!. "A lot of things haven't gone the way they thought it would." The insider adds that there are whispers that the soccer stud would be very happy if someone bought out his contract with his current team, the L.A. Galaxy.
Article continues below advertisement
Meanwhile, it looks like Posh might be pushing to stay in La-La Land a little bit longer. Just this past weekend, while David was off in Asia on a promotional tour with the Galaxy, Victoria made the most of her Hollywood connections, at STK on Friday and on Sunday night.
"They couldn't be happier here," the pop star's rep Cheryl Maisel tells OK!. "They aren't having second thoughts." Meanwhile, David's rep gives a briefer (and perhaps more revealing) summary of the Beckhams' situation, saying, "He is here to fulfill his contract."