NEWS
Has Elin Nordegren Visited Tiger in Rehab?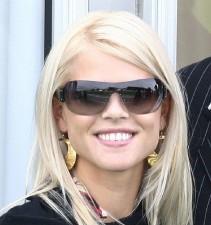 As conflicting stories of Tiger Woods whereabouts circulate, his wife Elin Nordegren has reportedly visited her penitent spouse at his Mississippi rehab center.
Tiger wants to save his marriage and is undergoing treatment for sex addiction at Gentle Path in Hattiesburg, Mississippi, reports Radar Online.
According to the Web site, Elin spent several days with Tiger, participating in his treatment program, before flying home to Orlando on Sunday.
Article continues below advertisement
"The marriage is not over. They both want to save it," a source familiar with the situation tells Radar Online.
Elin is alleged to have been with Tiger for around five days while private security was hired to keep her out of sight.
While she was out of town, her twin sister and her nanny took care of her two young children. The nanny was seen taking the children several places and Elin's twin took the kids to Sea World.