NEWS
Hasselbeck Wants Obama Back on 'View'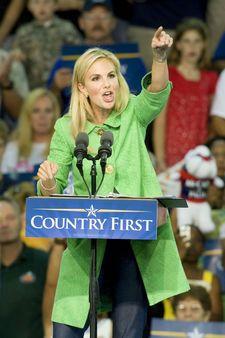 Following Elisabeth Hasselbeck's appearance at a Sarah Palin rally over the weekend where she introduced the Republican vice presidential candidate and, among other things, spoke her mind about recent digs at Palin's expensive wardrobe, The View co-host is speaking her mind again. This time, she's asking Senator Barack Obama to return to the show's hot seat.
In an interview airing tonight on Fox News Channel's Hannity & Colmes, Hasselbeck opens up about what she calls the media's bias against Palin and the important questions she wants to ask Obama before Nov. 4.
Article continues below advertisement
"My main focus now is to hopefully get Senator Obama back on the show," the notorious Republican told Hannity. "The focus is more on why hasn't he come back? Is he afraid to face tough questions again? What's there to hide? I say, come back, answer the questions."
Hasselbeck also revealed her views on Sarah Palin's wardrobe "scandal," telling Hannity that she feels the media has been "incredibly sexist."
MORE ON:
Elisabeth Hasselbeck
"I don't think anyone can deny the fact that the media has been incredibly sexist in their attacks against her," she said. "Some of the ones going on right now... I'm finding a little peculiar that they're focused on her shoes...And can't find the reporter who had ousted Tony Rezko's place."
In response to recent polls showing Obama ahead of McCain, Hasselbeck says she's still hopeful.
"There has been such enormous support for this team that I have a feeling that it's going to be closer than everybody thinks, I really do," she says, adding, "I know this is a cause close to my heart. I believe in this team. I believe we need – we need them right now. We need them to create jobs."