NEWS
Hats Off To 'Arthur' Star Russell Brand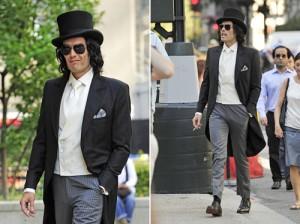 Hey, Katy Perry, we hope you like what you see! This may be what you'll be seeing when fiance Russell Brand walks down the aisle! Russell was spotted wearing a jaunty top hat while filming Arthur on location in NYC yesterday. Russ has been spending a lot of time in the Big Apple working on the film, alongside co-stars Jennifer Garner and Helen Mirren.
Article continues below advertisement
Russell plays the title character, a wealthy playboy who is planning on marrying a girl that his family doesn't approve of.
At least we know that Russell doesn't have to worry about that problem in real life — everyone adores Katy!