NEWS
Have a Bella-va Birthday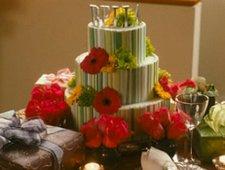 If you're a Twi-hard, and really dedicated to all things Bella and Edward, then you'll love this (if you're not, bear with us for a sweet treat): InStyle.com has delved deep into New Moon and wrangled the instructions on how to make a cake just like the one for Bella's birthday celebration in the new trailer.
The striped icing effect on the cake is the edible creation of confectioner Thomas Haas, owner of Thomas Haas Fine Chocolates in Vancouver. His wife Lisa opened up to InStyle.com and explained how it can be done:
Article continues below advertisement
1. Cover each cake tier with a "mask" of white fondant a thick, malleable icing. Stack tiers from largest to smallest.
2. Separate one package of fondant into 5 batches. Use food coloring to tint each batch a different shade of green.
3. Roll each batch of fondant into a thin sheet and cut into strips of varying width.
4. Attach the strips around each tier using stiff royal icing as glue.
5. Place red, yellow and green Gerbera daisies around the bottom of each tier.