NEWS
Have Enrique Iglesias and Anna Kournikova Called It Quits?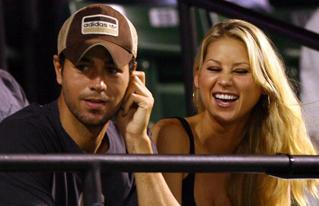 We're sad to hear that singer Enrique Iglesias and tennis champion Anna Kournikova have called it quits after 12 years. A few weeks ago, Page Six revealed the cute couple were on the rocks with confirmation from a close friend stating, "Anna is getting tired of waiting for him to decide if he wants to marry her or not. They've been together for so long, she feels like it's never going to happen. She is ready to move on." The source continued by explaining, "This issue has come up before, and they have managed to smooth things over and get back together. Time will tell."
Article continues below advertisement
After hearing the news, we here at OK! Magazine kept a close eye on the status with hopes the lovebirds would work their quarrels out. Unfortunately, a source shared with us that Anna is ready to move on. The duo's relationship status has been up in the air over the years, even though Anna has been spotted wearing both engagement and wedding rings! For more information on the sad breakup, pick up the latest copy of OK! Magazine on newsstands now.
Are you keeping your fingers crossed the couple are still together? Tweet us @OKMagazine and comment in the section below.