NEWS
Have Mercy! Full House's Own Jesse and the Rippers Reunite on Late Night With Jimmy Fallon!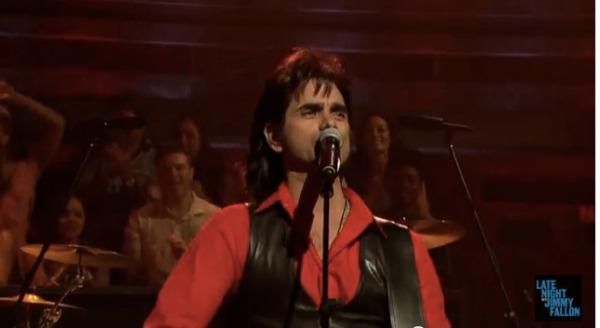 If you're like me, then your childhood was all about TGIF—that block of must-see TV on Friday nights that kicked off with Full House! I always had a crush on John Stamos as the vest loving, rock star Uncle Jesse. When his band Jesse and the Rippers played with the Beach Boys—I died. Whenever they had a gig at the Smash Club—I cheered. And when they became a huge hit in Japan and released that video for their love song "Forever"—let's just say to this day it still brings a tear to my eye.
Article continues below advertisement
OK! News: Six Things We Want to See in The Catching Fire Trailer!
I was sure Jesse and the Rippers retired for good when Full House went off the air in 1995. But leave it to Jimmy Fallon who has successfully reunited California Dreams and Saved by the Bell to reopen the Smash Club and bring back Jesse and the Rippers for just one night. The performance will blow your mind—and keep your eyes peeled for some very familiar faces as you get blasted back to the '90s right now!
youtube=https://www.youtube.com/watch?v=Dor96YnM_qo&w=560&h=315
What was your favorite Jesse and the Rippers moment? Tell us what you think about this awesome reunion by tweeting @OKMagazine or commenting below! What other '90s shows or bands do you want to make a comeback?