NEWS
Have we had Enough Jon and Kate Gosselin?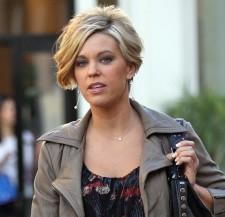 The curtain has barely come down on Jon & Kate Plus 8 but are fans of the octo-parents already sick of them? According to reports, both Jon and Kate Gosselin's post-TLC projects have hit roadblocks.
The Chicago Sun-Times says 34-year-old Kate's proposals to create a line of eco-friendly toys haven't sparked any interest with manufacturers.
She hasn't found any takers for her idea for "mom-friendly" beauty products for busy mothers either.
Article continues below advertisement
Meanwhile, 32-year-old Jon — a recent victim of a Michael Lohan phone-leak — hasn't persuaded any cable network bosses to sign on to any of his proposed reality shows.