NEWS
Hayden: I Hope Someone Beats Kristen Bell Up!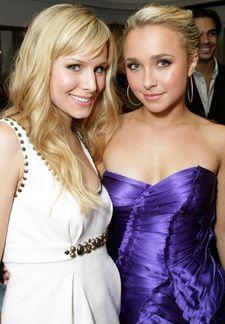 It was a star-studded opening night on Oct. 6 for the L.A. Kings hockey team, but the players on the ice weren't the only ones squabbling. When OK! caught up to Heroes stars and newly connected-at-the-hip gal pals Kristen Bell and Hayden Panetierre at the Staples Center for the after-party, there seemed to be some feuding going on.
The cause of the tension? "I'm a St. Louis Blues fan!" confessed Kristen to OK!, referring to the team that had just beaten the hometown favorites 5-3 earlier in the evening.
Article continues below advertisement
"I kept telling her during the game," Hayden told OK!. "'I hope someone hears you and beats you up!"
Luckily for both lovely ladies, there were no fisticuffs in the stands, and everyone ended the night unscathed.
As for rumors of Hayden's romance with her other co-star, Milo Ventimiglia, one eyewitness tells OK! that there may be less to these stories than meets the eye. "They sat together in the front row through the whole third period," the witness explains to OK!, "but everything seemed very brother/sister."