NEWS
Hayden Panettiere and Kevin Connolly are "Just Friends"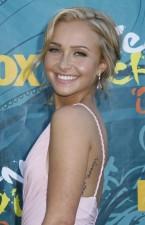 Heroes beauty Hayden Panettiere poo-poos rumors that she and Entourage actor Kevin Connolly are in a relationship.
"I've known Kevin for so long," she tells Justjared.com, "you can't have friends with the opposite sex. It's so funny. We're just friends."
Rumors that two of Hollywood's hottest singles were an item whirled after they were spotted deep in conversation at HBO's Emmy after-party on Sept. 20.
Article continues below advertisement
Hayden, 20, split with co-star Milo Ventimiglia, 31, in February this year. Perma-bachelor Kevin, 35, plays Eric "E" Murphy on the HBO hit.