NEWS
Hayden Panettiere: Real Life Hero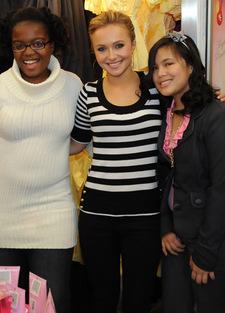 Not only does young award-winning Heroes actress Hayden Panettiere spend her light up the small screen on the popular NBC TV show, but she also helps bring smiles to the faces of girls who are in need of a little holiday cheer.
On Dec. 13 the 20-year-old real life hero spent her Saturday morning with five girls who are currently patients at the Childrens Hospital of Los Angeles on a Candies shopping spree at Kohl's in San Gabriel, Calif. The girls were recovering from aneurisms, strokes, paralyis of the nerves and spine and battling sickle cell anemia. The admirable group was awarded $500 to put together a brand new head-to-toe look just in time for the holiday season.
Article continues below advertisement
The stylish star tells OK! that while she did suggest pieces to the girls while shopping, they didn't seem to need much help!
"Not many of them listened to me!" she admits to OK!.
MORE ON:
Hayden Panettiere
Hayden with her shopping buddies (click for larger image)
Hayden helps pick out some Candies (click for larger image)
Hayden isn't afraid to stand up for a cause she believes in – the 20-year-old TV starlet had a warrant out for her arrest in Japan after participating with other activists in a protest to save dolphins from slaughter.