NEWS
Hayden Panettiere's an Indoor Girl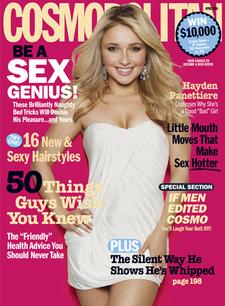 Hayden Panettiere is out to prove you wrong.
While her contemporaries have struggled with the trappings of fame, the 18-year-old starlet is out to avoid being sucked into the sex, drugs and rock 'n' roll lifestyle of the Hollywood social scene.
"I think that people look at me as just another one of those girls who's going to screw up, like, 'She's going to get into drugs, and she's going to get into the parties,'" she tells Cosmopolitan in its April issue. "I have the occasional glass of champagne when I'm celebrating something, but generally, I don't drink. I'm a pizza-and-a-movie girl."
Article continues below advertisement
Is that a pizza and a movie with beau Milo Ventimiglia? Hayden and Milo, 30, have been dating since late fall, following her breakup with Laguna Beach's Stephen Colletti, and while neither speaks of the relationship, the actress does hint about what keeps them together.
"I need somebody who is very secure," she reveals. "In this business, I'm constantly standing next to gorgeous people. My job is to make out with attractive men. Like, hello, who wouldn't be completely threatened by that? But at the end of the day, you have to realize that it's just a job."
The Heroes star also touched on her body image and proudly declares being comfortable in her own skin.
"I don't have a model's body," she says. "But I'm not one of those crazy girls who thinks that they're fat. I'm okay with what I have. I can rock this body, you know?"