NEWS
He Said/She Said in Hoff Hospitalization Story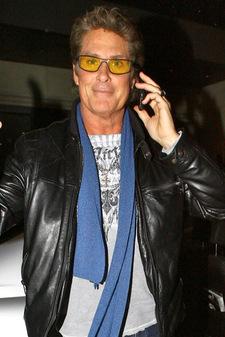 Over the weekend, radaronline.com posted a story claiming that big-in-Germany actor David Hasselhoff had been rushed to an L.A.-area hospital for what a source claimed to be a case of alcohol poisoning.
According to the item, the former Knight Rider star was found intoxicated by his teen daughter Hayley, who swiftly contacted the Hoff's ex, actress Pamela Bach. The source claims that Pam not only got David to the hospital but remained there at his bedside until the wee hours of the morning.
Article continues below advertisement
However, the folks on the Hoff's side are telling a different story to TMZ.com. David's lawyer, Mel Goldsman told the site that he believes Pam is the one who leaked the story to the press, thus making her "in violation of the court's order precluding contacting the media regarding her ex husband."
Meanwhile, the actor's rep is only saying that the situation has all been blown out of proportion and that David "is fine and well and happy and is celebrating his father, Joe Hasselhoff's 80th birthday tonight at dinner... along with his girlfriend, Kimberly."