NEWS
Heartbroken Selena Gomez Turns to Taylor Swift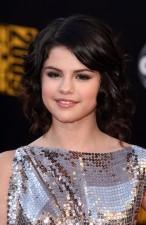 Disney starlet Selena Gomez may only be seventeen, but the young actress and singer reveals that everyone needs a way to deal with a bit of heartbreak. Her personal remedy? Writing music and the support of country-pop sensation Taylor Swift help to ease the pain.
"One of my favorite stories with Taylor Swift was when I was going through a very hard breakup. She came to my house at 10:30 at night and knocked on my door. I opened it, and she had two big bags of junk food, cookies, Snickers and soda," Selena gushes about one of her best friends.
Article continues below advertisement
"She put it on the table, put her laptop on, we made a video, and she told me that now we could look forward to breakups, since we know the other one will get us junk food!" Selena reveals, while chatting On Air with Ryan Seacrest.
"She's very sweet. I feel very lucky to have her in my life," Selena recants of the chart-topping star.
In addition to the great girlfriend by her side, Selena admits that her newfound love of music was also helpful in getting through tough times.
"Naturally," a single from her first hit CD Kiss and Tell, is "about people who have feelings that they can't ignore naturally and it's just really fun and it's got a dance beat to it." The song reveals some of Selena's strongest emotions.
The Wizards of Waverly Place star told Ryan Seacrest Thursday morning on 102.7 KIIS FM that when you have undeniable feelings for someone, "You embrace it… You can't fight the feelings."
And although the singer, set to go on tour this year, wouldn't admit if she was having those "feelings" -- and dating Nick Jonas again or not -- Selena did explain to Ryan that she thinks that Twilight's Taylor (Taylor Lautner) is "amazing. He is so awesome… I love Lautner!"