NEWS
Heartthrob Zac Efron Promises He's Normal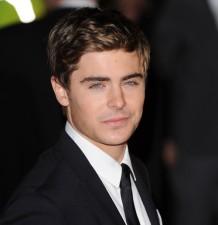 Zac Efron says his life is pretty normal, except for having to talk about how it's normal."I'm doing the same things as my friends in college — working, studying, trying to have fun whenever possible but usually getting pulled back into work," Zac told fans in response to a question in a Time magazine interview. "It's really normal for the most part, other than having to talk about how it's normal."
Article continues below advertisement
Zac stars in the new film Me and Orson Welles in theaters Nov. 25.
"It's sort of a coming-of-age story for my character, but it's also a week in the life of Orson Welles, this amazing American icon," Zac explains. "There are a lot of tough people in Hollywood, but there's no one quite like Orson. He was a genius and should forever be remembered like that. I think one of the reasons this movie was so exciting to make was to reveal to everybody how amazing this guy was."
When it comes to choosing more mature roles, Zac really doesn't have a strategy.
"To be honest, I've never really had any strategy at all. I don't really work that way," Zac revealed. "I know that when I see a role and it speaks to me, I'm drawn to it and I have to go that direction. But there's no master game plan."
He would, however, like to emulate Leonardo DiCaprio's career.
"I think Leonardo DiCaprio's done a great job," he said. "I was dead set against the guy when I was growing up, kind of force-fed his image from Titanic. Since then, through very hard work and incredible performances, he's done a complete 180. Now he's one of my favorite actors. He's at the top of his game."
While there is no "master plan" for Zac's career, there is one for his hair!
"I've never told anyone this before. This is a hair scoop," Zac confessed. "Shower before you go to bed, and then sleep on your wet hair. Towel-dry it. In the morning, it's all messed up naturally. If you have that messed-up thing going when you wake up, it's more willing to stay that way. That's Zac's hair tip."