NEWS
Heath Ledger Drug Video Discovered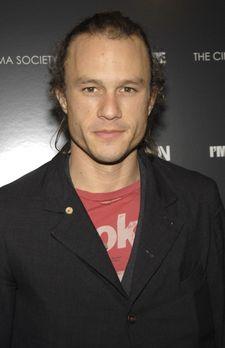 One week after Heath Ledger was found dead in his NYC apartment, a new videotape has emerged, showing the actor surrounded by drugs at a hollywood party.
The tape — acquired by Australia's Channel 9— was shot at L.A.'s Chateau Marmont back in Jan. 2006. Entertainment Tonight and The Insider had planned on airing the tape Thursday, but now a rep for ET and the Insider tells OK!, "Out of respect for Heath Ledger's family, Entertainment Tonight and The Insider have decided not to run the Heath Ledger video being released to the world media today."
Article continues below advertisement
Though Heath is not seen doing any drugs in the grainy video, the people with him are, and the tables around the actor are reportedly covered with drugs as well. At one point, Ledger can clearly be heard saying, "I'm going to get so much s**t from my girlfriend." When he's asked "Why?" he responds, "Because we have a baby together.... Matilda, Matilda Rose." Ledger goes on to say, "I shouldn't be here at all." Ledger also talks about his drug use on the tape. "I used to smoke five joints a day," he says.
This tape confirms a story in the new issue of OK! where sources who partied with the actor at the Chateau Marmont detail the late actor's drug use. On Jan. 29, Ledger was in town to attend the SAG Awards (Brokeback Mountain was nominated) and was staying at the hotel with Michelle Williams, Matilda and Michelle's mom, Carla.
There was an official Brokeback Mountain party at the hotel but Heath didn't stay long. At one point sources say he walked outside for a smoke and met up with two strangers.
Article continues below advertisement
"I was with a friend who happened to be Australian," an insider tells OK!. "Before I knew what was happening, he and Heath were in our bungalow. He did massive amounts of cocaine and drank up every bottle of liquor in my minibar."
The source continues, "Heath talked about so many different topics, but most of all he talked about Michelle and his daughter, Matilda. He told me he loved Michelle more than anyone in his life but could never see himself marrying her. He just didn't have it in him."
Though OK! has received several other confirmations that Heath had issues with illegal substance abuse during his brief life, the medical examiner in New York has not yet released toxicology reports from tests done during the actor's autopsy.