NEWS
Heath Ledger: The Next Day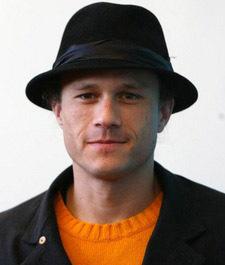 Having been a teenager when 10 Things I Hate About You hit theaters, I know what it's like to harbor a crush on Heath Ledger. When A Knight's Tale came out and his love interest had the same name as mine (Jocelyn), I knew I had to see it. I had to know what it would sound like for Heath to say my name. As you might imagine, it was lovely.??
Years later when I got into this business, Heath was one of those guys I had on my "people to interview" list. One, because he was extremely handsome. Two, because he was a great actor. And three, because he seemed to truly embody cool.?? So it's hard to put exactly into words how surreal it was for me to head to his apartment Tuesday evening and cover this unbelievable tragedy.
Article continues below advertisement
When I hit that now famous address, 421 Broome Street, around 5p.m., still in shock over the news that my teen heartthrob was dead, the throng of media was already beginning to assemble. But what truly struck me was the growing mass of non-media people gathering. Before long it seemed as if everyone in Manhattan had crowded on that cobbled SoHo sidewalk.?? ??
As the night progressed, a new generation of teenage girls, complete disbelief on their faces, showed up to leave flowers for Heath at his apartment. Roses and notes were strew in front of his doorstep. It was oddly quiet on that SoHo street. It felt like a dream, everything moved in slow motion and no one seemed to want to say anything. You could almost hear people breathing.
These are not the kind of stories you like to cover. And Heath is not the guy you want it to be about. I was reluctant to see the medical examiner enter the building and I was reluctant to see Heath's body leave it. The neighbors I spoke to seemed sincerely upset that Heath died. They said he seemed so happy and lucky. And all they could remember was how happy he was when he was with his two-year-old daughter, Matilda.
Memories are what we all have know. And I'll always know what the sound of his voice saying my name sounds like.
By Jocelyn Vena