NEWS
Heath Ledger's Death Spikes Film Sales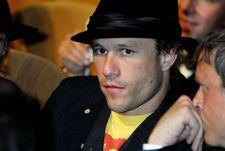 Heath Ledger's death is causing a flurry of renewed interest in his work. On Friday, three of the actor's movies charted among the 25 best-selling DVDs on Amazon.com.
According to the A.P., many people have been buying copies of Ledger's 1999 comedy 10 Things I Hate About You and his 2001 period action film A Knight's Tale.
Following those films, Ledger went on to star in more serious dramas, like 2005's Brokeback Mountain — the third most popular of his DVDs on Amazon — and widely considered his finest work.
Article continues below advertisement
The 28-year-old Australian actor died on Tuesday in his Manhattan apartment. Toxicology tests to determine his cause of death will not be completed for at least a week.
The A.P. reports over seven million people have flocked to YouTube to watch trailers of Ledger's latest film The Dark Knight since his death on Tuesday. Over one million have watched a clip of an interview where Ledger discusses his role as the Joker.
The actor's latest film to be released, I'm Not There, was released in November and is said to be doing well. "I don't imagine that it's going to do better because of his loss," says an insider. "I think it's doing as well as it is because it's a very strong and interesting and unusual film.''