NEWS
Heath Ledger's Funeral Plans Remain a Mystery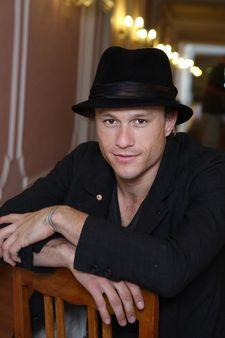 There are several different theories circulating about where Heath Ledger's body is, where his funeral was/will be held and where he is likely to be buried. The fact is, no one knows.
A memorial service is rumored to be taking place this weekend in Los Angeles, according to Reuters. "I understand it's proposed there will be a public memorial service in Los Angeles later this week," said Australian Foreign Minister Stephen Smith, who added that Australian Consular officials have offered to help the Ledger family repatriate the body.
Article continues below advertisement
No further details regarding the funeral have been made available. Ledger's publicist, Mara Buxbaum, said funeral arrangements ''will continue to be kept private at the family's request.''
What we do know is that Ledger's body was taken in a plain coffin from a N.Y. funeral home on Friday and driven away in a black hearse (watch video ). The actor's family was expected to arrive today from Australia for a private viewing and possibly a service in N.Y., that no such viewing was on the funeral home's schedule, and the family was not seen anywhere near the funeral parlor.
Since his death on Tuesday, New Yorkers have gathered at Ledger's Manhattan apartment to pay tribute to the actor, creating a makeshift memorial on the front steps of his building. One day after his body was discovered, bouquets of flowers had grown to over 100, not to mention candles, homemade signs, cards and pictures.
And outside the Brooklyn home he once shared with former girlfriend Michelle Williams, fans placed flowers near a block of cement bearing the name of Ledger's daughter Matilda Rose. Ledger and Williams split up last year but the actor continued to be an active force in his 2-year-old daughter's life.
Close friend and model Sophie Ward, whose supermodel sister Gemma Ward was romantically linked to Ledger, told Australian media that Ledger was edgy and anxious during his Christmas holidays in Perth about not seeing his daughter.
"He was clean and wasn't drinking any alcohol or taking drugs," Ward told the West Australian newspaper on Thursday.
Ledger is expected to be buried in his native Perth, Australia.