NEWS
Heath Ledger's Last Phone Call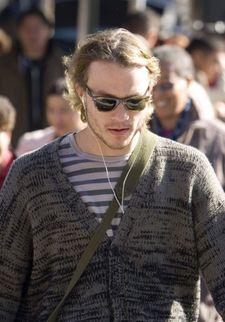 The Insider sat down with The Four Feathers director Shekhar Kapur, who reveals he spoke with Heath Ledger on Monday evening, one day before the actor's untimely death.
Kapur says he invited Heath to get a massage on Tuesday at the Chopra Center in Manhattan and to possibly meet his friend, Deepak Chopra, but Heath told him he was jetlagged and already had a massage booked at his apartment.
Kapur tells The Insider that Heath made him promise to call him that Tuesday morning. Kapur did call that morning, but there was no answer so he left a message.
Article continues below advertisement
"Little did I know that his beautiful soul had moved on," Kapur said. "In Heath, I have lost a younger brother. He was one of the most gentle, the most honest, most caring and most compassionate persons I have met, and one of the most honest actors I worked with."
Kapur continues, "I often told him that he had the ability to completely bare his soul in front of the camera, and all I needed to do was make sure the camera could look into his eyes and through his eyes, the audience could clearly look into his soul."
Kapur directed Heath in The Four Feathers in 2002.
For the full interview, tune in to The Insider tonight! Check your local listings.