NEWS
Heather Locklear Charged with DUI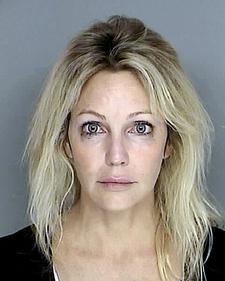 Heather Locklear has been formally charged with DUI in connection to her September arrest, according to the Santa Barbara District Attorney's Office.
The midemeanor charge, filed in the DA's office, found no evidence of alcohol in the actress's system, but rather specifies that the issue was "prescription medications."
"Lab tests showed she had no alcohol in her system and no illegal narcotics of any kind," says Senior Deputy District Attorney Lee Carter, who declined to comment on what medications – or the amounts – Locklear had taken. "We believe that the prescriptions she was taking could have impaired her ability to drive a motor vehicle safely," says Carter.
Article continues below advertisement
If she's convicted, Locklear, 47, could face anything from a hefty fine to six months in county jail.
Locklear was originally booked on charges of driving under the influence of drugs and being under the influence of a controlled substance. The latter charge was not filed because, says Carter, "There were no illegal substances in her system."
In addition, felony charges for Locklear "were not a possibility," because DUI cases with no injuries are always misdemeanors, he said.
An arraignment has been set for Jan. 26 in Santa Barbara Superior Court. In July, Locklear completed treatment for depression and anxiety.