NEWS
Heather Mills Explains Water-Tossing Incident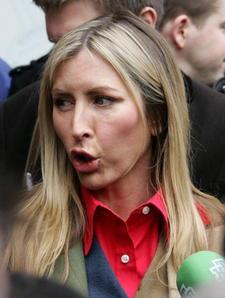 The courtroom battle between Paul McCartney and ex-wife Heather Mills, certainly one of the ugliest splits in the history of celebrity couples, ended in March with a nearly $50 million settlement for the model-turned-activist — oh, and a pitcher of water being tossed on the head of Paul's lawyer Fiona Shackleton.
Now, several weeks later, in an interview on GM.TV, Heather continued her war of words with her tongue-in-cheek explanation of why she felt compelled to douse Ms. Shackleton in the middle of the London courtroom.
Article continues below advertisement
"Mrs. Shackleton said something under her breath so I cleansed and baptized her," the former Dancing With the Stars contestant explained. "I thought she looked fantastic... it did her the world of good... I have no regrets."
As for the divide among the public's attitude toward her, Heather said, "People love me or hate me."