NEWS
Heather Mills' Water War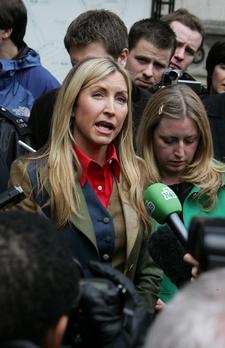 Hide your water bottles from Heather Mills. The former wife of Sir Paul McCartney is apparently fond of throwing liquids at her enemies, and yesterday in a fit she threw a tumbler of water on McCartney's lawyer Fiona Shackleton.
The glass was allegedly tossed because Mills was upset that she had been awarded only one-fifth of the amount she had requested in the divorce settlement. Mills had initially asked for $250 million, but received only $50 million in the settlement. Additionally, Mills said Shackleton "handled this case in the worst manner you could imagine."
Article continues below advertisement
Reports of the water incident contradict Mills' post-courtroom statement. On the steps of the Royal Courts of Justice, the former model and animal rights activist said she was "very very happy with the decision."
Mills is not happy, however, with McCartney's wish to make the details of their divorce public, and returned to court today to block publication of the judgment.