NEWS
A Heavenly Return for Charlie's Angels?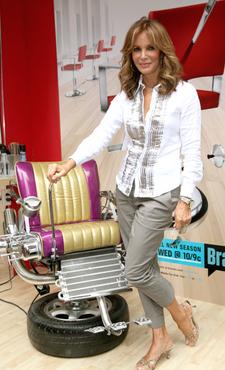 Is another Charlie's Angels project in the works?
Possibly.
And this one won't involve Cameron Diaz, Drew Barrymore and Lucy Liu, but rather the original heavenly trio of Jaclyn Smith, Kate Jackson and Farrah Fawcett!
"We'd like to do it if it's right," Jaclyn tells Extra of revisiting their most famous roles to date.
The reunion all hinges on one thing -- a perfect script.
"If we have a script that is 'today,' it would be fun, I think, to bring us back together for the right reason," she says.
Article continues below advertisement
Jaclyn had the longest tenure of the original three on the '70s hit, staying on for all five seasons. These days, the 60-year-old is back on TV, hosting Bravo's Shear Genius, which kicks off its second season tonight.
The actress is also keeping in touch with her former co-star, Farrah, who is currently battling anal cancer.
"She's doing great," Jaclyn says. "She's holding her own and she is strong and I'm proud of her. She is fighting."