NEWS
The Heichel Sisters Transition Into Sorellé, Get Signed to Ankot Music Group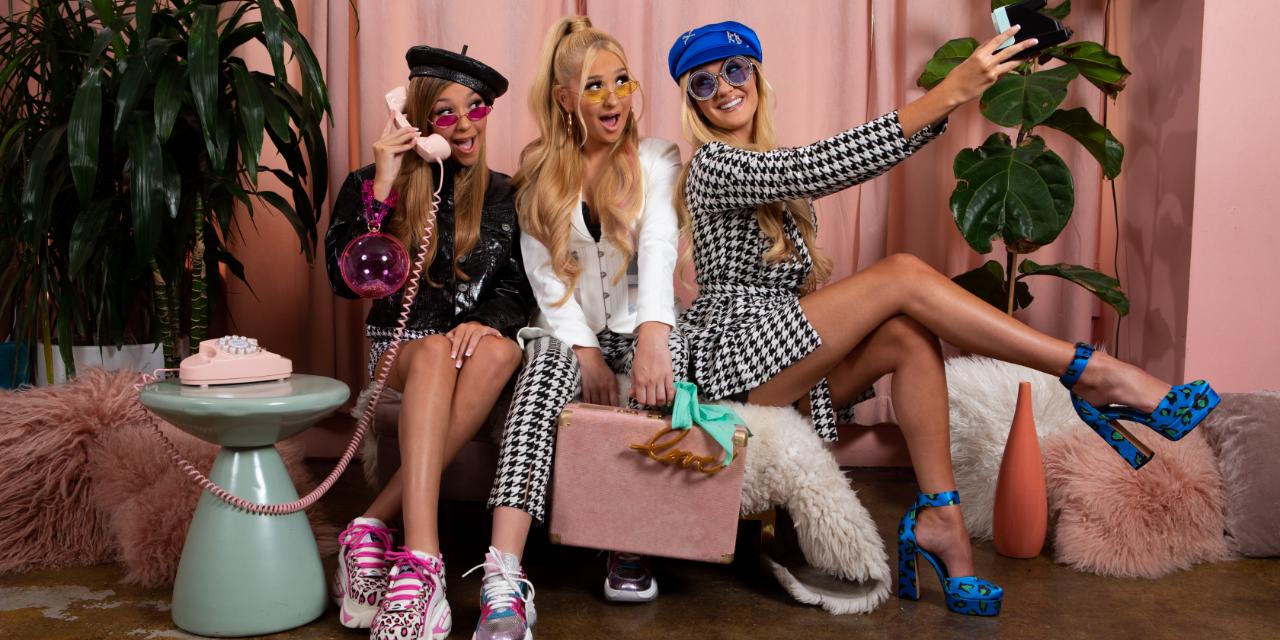 'The Heichel Sisters' to 'Sorellé' is quite a transformation for the musical group comprising of Madi, 19, Ana, 17, and Bella, 13.
The group was on Nickelodeon's America's Most Musical Family this year and have recently been signed to Ankot Music Group, and undergone the name transformation to 'Sorellé' which means sisters in Italian.
The girls were recently in LA recording and shooting a video where they were styled by stylist/designer and owner of Custom Crystalized Shoes Urbana Chappa Lawrence, wife of Music Producer Philip Lawrence who is known for his music with Bruno Mars. They are also working with Patchwork Music and recording a new album next to Ankot Music Group.
Article continues below advertisement
Their makeup was done by Pamela Brogardi, who is known for her makeup on the Hiltons, the OC and BH Housewives. They also had hairstylist Daved Munoz working on the hairstyles of the trio.
CIARA KEEPS IT SEXY AS SHE HEADS OFF TO FILM 'AMERICA'S MOST MUSICAL FAMILY'
The musical group has a huge following on TikTok with over 2.6M followers. With their eyes on stardom, the group has quite an artistic history. Madi and Ana are former Miss Ohio Outstanding Teen crown holders while Bella was cast in the play, 'Annie".
The trio used Vine as a launching point to get a spot on America's Most Musical Family, The show was described as 'Nickelodeon's new music competition series, 30 amazing families take the stage to perform but only one will become America's Most Musical Family.' The sisters managed to make it to the top 12 of the show.
"This is such an amazing and overwhelming experience," Ana said. "One thing that has stood out is that you have to be a family and you have to be musical. It's been a magical experience and I truly believe this show unites families."
Article continues below advertisement
The girls really feel for their social media fans and are always glad to meet them in person.
CIARA STUNS IN A BALMAIN DRESS AS SHE ANNOUNCES NEW NICKELODEON SHOW
"It touches your heart in a different way in person than on social media," says Madi. "When followers see (you) on stage and scream your name it means something different than them liking or sharing your posts."
The girls recently visited the Tik Tok offices sharing a video inside writing, "Had a blast @tiktok_us We got some awesome merch and met our amazing contact partner! Thank you for everything TikTokTwo hearts #TikTok #creators #heichelsisters."
"They were also featured on New Delhi's Rohan Soloman's single 'Keep Holding On'. Soloman is the former frontman of rock band Cyanide."
The video from Rohan's New Delhi studio featured musicians from nine countries. The music video was about the world coming together during the lockdown to beat the lockdown-induced loneliness and triumph over it together.