NEWS
Heidi and Spencer Searching for Their Own Show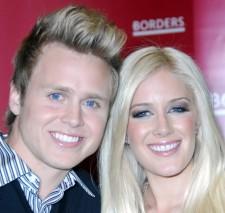 It's the stuff of nightmares, but fame-lovers Spencer Pratt and Heidi Montag apparently feel starved of attention because they're shopping around a reality show of their own.
The pair told the Associated Press they want to branch out from the MTV hit, The Hills, and have their own series to give viewers an even bigger insight into their over-exposed lives.
''You don't get to see our everyday lives and what we do,'' says Heidi.
Article continues below advertisement
Currently promoting their new book, ''How to be Famous: Our Guide to Looking the Part, Playing the Press, and Becoming a Tabloid Fixture,'' the couple want their spin-off to include everything that happens to them.
But don't get your hopes up: they won't be leaving The Hills, instead they hope to appear on both shows.