NEWS
Heidi Klum is Happy to Be a Working Mom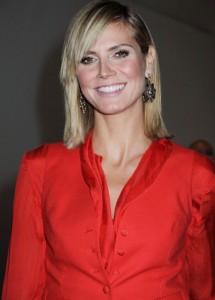 Heidi Klum made a splash at New York Fashion Week by showing up at three events: Wednesday's City magazine cocktail party, Thursday's Project Runway fashion show and Friday's Destination Maternity Fashion's Night Out event featuring maternity styles from 1950-2010.
But this mom of four was on a tight timeline: she had to get home to celebrate son Henry's fifth birthday on Sunday with kids Leni, 6, Johan, 3, Lou, 11 months, and hubby Seal.
Article continues below advertisement
How does she manage her booming career and blossoming home life with such grace?
"I enjoy what I do," the supermodel-designer-reality star-executive producer, 37, tells me. "I think when you like what you do, you do it with a smile on your face. If you don't like what you do, you should stop it and do something else. I think that's why I get a lot of things done. I like what I do. I like designing, I like shooting, I love finding new designers. I like all of it."
Here's my pic with Heidi: