NEWS
Heidi Klum & Seal's Sexy Sing-along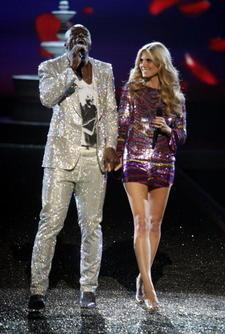 While the marquee performers at last night's Victoria's Secret Fashion Show were the reunited Spice Girls, perhaps the biggest surprise of the evening came from the lingerie company's signature model, Heidi Klum, who took to the stage not only to pose in some revealing skivvies, but to sing!
The breathtaking mother of three joined her hubby, Seal, himself decked out in a sequined suit, to perform their duet "Wedding Day." And though a number of audience members were surprised at just how well Heidi could carry a tune, perhaps the most impressed person at the show was the supermodel herself, who had revealed to OK! only hours earlier that she was suffering from a terrible sore throat. "I've had it all week," she told OK! during her hair and makeup session.
Article continues below advertisement
As befits a couple as in love as these two, the Seal and Heidi duet ended with a lingering kiss, prompting wild cheers from the audience. But the two were reunited later in the show when Seal performed his track "Amazing" on a Christmas-themed set while Heidi hit the runway in a revealing costume that opened out into a wide silver snowflake. Unfortunately, the snowflake ended up being too wide and Heidi had to turn sideways to get backstage after taking a tumble attempting to do it the regular way!
See it all for yourself when the show airs on CBS on Dec. 4.