NEWS
Heidi Klum Solves the Great Project Runway Mystery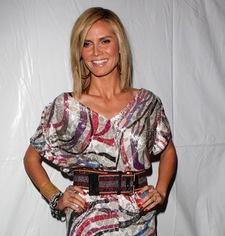 We gossips love a good mystery – and Project Runway provided one recently.
Because of behind-the-scenes legal battles, they're taping the whole season of the hit reality show before airing the first episode.
But when Fashion Week schedules were published, the PR runway show – which usually shows the finalists' clothes – was on there as usual.
Huh? So whose clothes were they going to show, and how are they going to keep the finalists' identities secret once big-mouth reporters (don't look at us!) have seen them in the runway show?
Article continues below advertisement
Wonder no longer. We got the answer direct from Runway host, Heidi Klum, backstage at the Michael Kors show.
"We're having the show on Friday," she told OK!. "Every year we have the same thing – so we always show about seven or eight designers because the audience otherwise would always know."
More of an issue, she said, is that the budding designers won't get as much exposure as previous contestants have.
"It is sad for the designers because they've really worked their butts off for so many weeks being on the show. And normally, you know, this is their moment. That's why they're here, because they want to get the recognition at Fashion Week."
She continues, "Unfortunately, on Friday it won't have that big of an impact for them, because people are not going to be rooting for them because they don't know them."