NEWS
Heidi Klum, Tina Fey Style Peabody Awards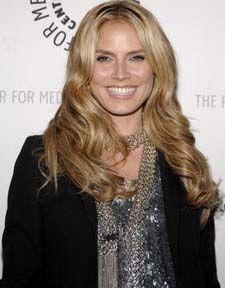 30 Rock and Project Runway are among winners at the Peabody Awards held at Waldorf-Astoria in NYC. Style is on everyone's mind.
What's the key to Heidi's style?
"You have to feel good in what you wear," the mom of three says. "You have to feel good when you walk out of the house, and really mean it."
Her Project Runway costar Tim Gunn agrees Ms. Klum's style is just right.
"Heidi has incredible self-awareness about what looks good on her," he says. "She's a master of fit. She knows. You can't pull anything off on Heidi. You can't delude her into thinking something looks good on her when it doesn't. She knows. It's everything from the hair to the makeup to the shoes."
Article continues below advertisement
What are his summer picks and pans?
"I love summer because people can be relaxed and appropriate as opposed to relaxed and inappropriate," Tim says. "It's a time to loosen up. For men, I'm in favor of suits with an open shirt. For women, I think it's a great time to wear flat shoes and not be like 'I'm not dressed up enough.' Sure you are! The only thing I caution everyone is keep that bare midriff covered. I don't understand – unless you're at the beach – I don't get it."
Any tips 30 Rock star Tina Fey – who says she owes her look to an army of gay guys -- can share?
"I have learned what works for me," she says. "You would never see me in any bias-cut garment ever. That's the biggest thing I've learned. Also I had a friend who told me 'don't wear what fashion designers tell you; you wear what they wear.' When you think about it, they're almost always in a white shirt or a simple dress. When they do it, they look fabulous. So dress like the actual fashion designer."
Article continues below advertisement
Project Runway judge Nina Garcia urges experimentation.
"You have to try a lot of things, and be open to a lot of things. I think we sometimes – myself included – we say 'this is what works,' and we won't experiment. But experimentation is part of it. Sometimes you'll be surprised. For a long time, I wouldn't wear color, but color works really well. It's one of those things you really have to push and experiment with."
Nina's favorites for summer include gladiator sandals, flowers and color "done carefully."
For more on Heidi Klum and Tina Fey, pick up the OK! on sale everywhere Thursday. "Tori's Miracle Baby Girl" is the cover line.