NEWS
Heidi on McCain's VP: "I'm Really Hurt"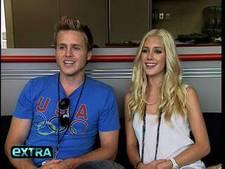 Although Heidi Montag expressed , he went for another woman and chose Sarah Palin instead.
Heidi and constant companion Spencer Pratt laughed it up with Extra recently at the NASCAR Pepsi 500 on their reaction to McCain's choice.
"He picked a girl and it wasn't Heidi," Spencer joked. "Not picking Heidi for the vice president, it's just cold."
Article continues below advertisement
"I can't believe it," joked Heidi. "I'm really hurt. Blondes have more fun. I guess he doesn't know that."
While the dynamic duo won't be making any trips to the White House soon, at least in an official capacity, they might return to the NASCAR scene in the future, and not just as fans.
"It's Heidi's dream to be a cheerleader," said Spencer. "She can be a cheerleader for my race car. I'll name it Speidi Mobile."
Meanwhile Heidi got involved in the racing action in another way – she was in charge of waving the green flag, something she admits she's good at.
"I'm pretty natural at that waves. I always wanted to be prom queen."
Check out the rest of Extra's interview with reality TV's reigning blonde couple, airing tonight.