NEWS
Heidi Montag Sheds 27 Lbs. With 14-Hour Workouts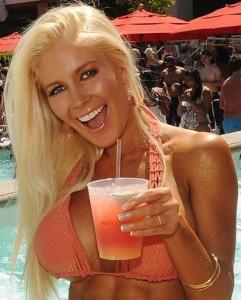 Even though she's had more than a dozen plastic surgery procedures, looking good doesn't come easily for Heidi Montag.
The reality star, 24, shows off when she hosts A Sexy Poolside Affair at Wet Republic at MGM Grand Hotel and Casino in Las Vegas this weekend.
"I've been working out from, like, 5 a.m. to 7 p.m. for two months now, so l've been working out really hard because I had this pool party, and I was like 'I've got to be in shape,'" she says. "I was actually a lot overweight. I was the most I've ever been, because I've been in hiding, eating pie with my puppies, so I really needed to get in shape."
Article continues below advertisement
According to Heidi, who stands 5'2," her highest weight was 130 lbs.
"That's a lot more for me than for someone who is taller."
These days, she clocks in at 103 lbs.
How did she do it?
"I ran a lot, and I've been doing weights," she tells me. "And making sure you eat enough. When you work out, you boost your metabolism, so you've gotta make sure you keep up with it."
She balances her sweet tooth with nutritious fare.
Favorite snacks?
"Pie!" she says with a smile. "I love healthy foods. I love salads, I love fried chicken. One of my favorite healthy snacks are apples, and fruit. I love cherries 'cause it's the summer."
One reason she packed on the pounds is because she stopped exercising after her 2009 surgeries, which included a mini brow lift, Botox in the forehead, nose job revision, fat injections in cheeks and lips, chin reduction, neck liposuction, ears pinned back, breast augmentation revision, liposuction on her waist and thighs, and a buttocks augmentation. (Years before, she had a nose job and breast augmentation.)
MORE ON:
Red Carpet Confidential
Article continues below advertisement
"My body was really tired after my surgery, so I gave myself a year off, especially my breasts since they're so big," she says. "They really needed time. I'm just starting to work out again after my surgery."
And she is still feeling residual effects from the procedures.
"Sometimes I get shooting pains, but I hear that's normal," she says, adding that her breathing is good "most of the time."
For Heidi, who calls her relationship with hubby Spencer Pratt "good," life is grand, but they're not planning to start a family anytime soon.
"I have four puppies, so not right now."
What are her summer beauty tips?
"I do all my own makeup," she tells me. "Glitter! I think glitter's really fun, really bronzed. That's the summer look I'm going for – glittery, bronzy, and you can never put on too much glitter. I have it everywhere! I felt glitterfied this morning."
She shares secrets of her bronzed glow.
"I am spray tanned. I don't know what kind. They just spray me."
And what scent is she wearing?
"It's Mystic Tan!"
(Well, that answers that question – ha.)
Catch Heidi on VH1's Famous Food, which premieres July 10.