NEWS
Heidi & Spencer Want to Support the Troops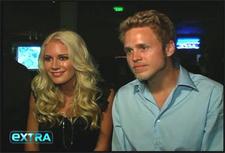 Senator Barack Obama may not have an "" with Scarlett Johansson, but rival Senator John McCain -- or at least his daughter -- has certainly struck up a friendship with a Hollywood celebrity -- who's none other than Heidi Montag.
The Hills star, who has voiced her support for the Republican presidential hopeful, has been in close contact with Sen. McCain's daughter, Meghan.
"She's very sweet," Heidi tells Extra. "We have a lot in common."
Article continues below advertisement
That includes their support of the troops. Meghan is trying to engineer a trip to Iraq for Heidi and fiance Spencer Pratt.
"Her dad definitely has some pull with the military," Spencer says. "I think she's going to put that together for us."
Heidi is determined to entertain the troops overseas as her late stepbrother Eric O'Hara served in the 82nd Airborne Division. He wasn't killed during duty, but passed in a freak accident back home in Colorado.
"My brother was an airborne ranger in Afghanistan and Iraq," she says. "It's very important to me and important to Spencer to support the troops and go over there."
Visits to stationed soldiers aren't the only plans in the works for the couple everyone loves to hate. The two are currently creating their "top secret" video game and Heidi's still hard at work with her clothing line, Heidiwood.
While archnemisis Lauren Conrad's clothing line may have been dropped, Heidiwood most likely won't suffer the same fate.
"It's selling really well," the 21-year-old says. "It's one of the #1 selling celebrity clothing lines."