NEWS
Heidi's Healthy Heart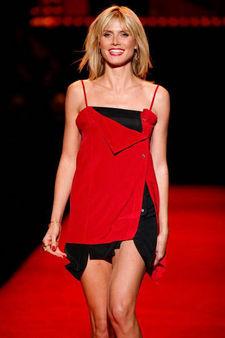 As Heart Disease Awareness Month comes to an end, OK! wants to remind you why a healthy heart is important to celebrities like Grey's Anatomy star Sara Ramirez and supermodel Heidi Klum, and why it should be important to you!
Although Heidi has been lucky enough not to have any connection to heart disease, she signed on to be the spokesperson for the Diet Coke Red Dress Program to help raise awareness among women. She tells OK! that it matters to her because "it's the number-one killer of women in America—more than all cancers combined."
Article continues below advertisement
Heidi, who looks the picture of good health, is the perfect candidate to speak out, says Dr. Elizabeth G. Nabel, director of the National Heart, Lung and Blood Institute at the National Institutes of Health. Dr. Nabel met with Heidi a few weeks ago and says, "She's fully engaged. She wants to speak out about the importance of women being aware of their risk factors, taking action and, more importantly, learning to lead healthy lives and create healthy lives for their families." In that way, Heidi is a great role model as well.
She tells OK!, "I love junk food, but I eat very healthy, too. I'm going to be 35, I have three children and I'm fit. I move around, and I get a lot of exercise. I think you can have that kind of lifestyle, and you can have your Big Macs and fries." And she doesn't stop with herself: Heidi tries to teach her three kids, Leni, 3, Henry, 2, and Joan, 15 months, that they can't eat junk food all day. "There's no pizza or fries all the time," she explains. "They eat exactly what Seal and I eat. We don't alter or change the food for them at all."
Of course it's important to maintain a healthy diet starting at an early age, but Dr. Nabel says it's never too late to begin taking care of your heart. "If women are at risk for heart disease, they can take action to reduce their risk and lower the likelihood that they will develop the disease by going to the physician, having their cholesterol and blood pressure measured, determining whether they are diabetic, engaging in physical activity and adopting a heart-healthy diet." By keeping stress under control and maintaining a healthy lifestyle, women can lower their risk of heart disease by 82 percent. It's time to start taking control, ladies!