NEWS
Henrik Lundqvist & Mika Zibanejad Reveal Secret Behind New York Rangers Early Success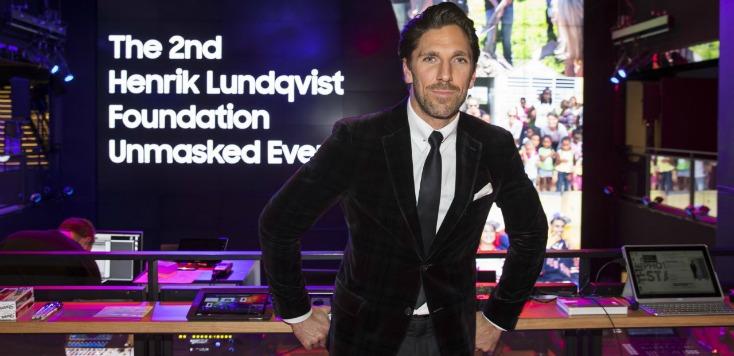 When Henrik Lundqvist isn't blocking goals to help bring the New York Rangers to the playoffs, he's giving back through his organization, the Henrik Lundqvist Foundation. OKmagazine.com exclusively spoke with The King to discuss how he's helping fans off the ice.
"This is something I've been doing for 11, 12 years, ever since I came to New York," the goalie told OK! at his 2nd annual Unmasked Event hosted by Samsung on November 9. "I've been a part of the Garden of Dreams Foundation and now I have my own foundation."
Article continues below advertisement
The event showcased 25 one-of-a-kind goalie masks Lundqvist has worn during the World Cup, Olympic games and more. Several were available for purchase to raise funds for the organization, which strives to create change for children and adults through education and health services.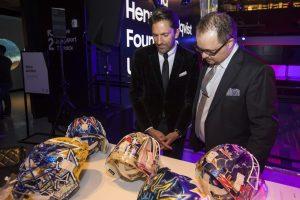 "The goal of tonight is to meet a lot of people, talk about the foundation, talk about our mission and connect with people who want to help out moving forward," Lundqvist said.
But when the Swedish goalie isn't working on his humanitarian efforts, he's helping to bring the cup back to New York for the first time since 1994.
"That's the plan," he said of winning the Stanley Cup. "It's always interesting to see where you are as a club and as a team. We just have to be a very hardworking team. If you want it bad enough, you're going to have success. So far it's been a pretty good start for us."
Article continues below advertisement
Lundqvist praised the "new guys who came in" for the team's early success, including Mika Zibanejad, who served as the DJ for the event.
"I got a request from Henrik," Zibanejad told OK! of his role at the event. "It's good to be here to DJ and support him and what he's doing tonight. I've been able to get into a couple of festivals here and there, and it's fun. It's something I like to do, to play music I've produced and created myself. It's cool to try out."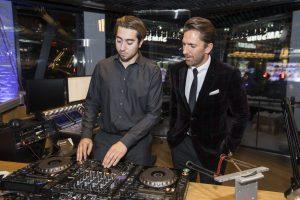 Although Zibanejad has already made a name for himself on the team because of his on-ice chemistry with line mate Chris Kreider, he admitted the trade from the Ottawa Senators wasn't an easy transition at first.
"It was a shock, it took me a couple of days and weeks," he said of the trade, which brought fan-favorite Derick Brassard to Ottawa. "But then I realized how cool it was going to be coming here. I heard all of the great stuff about New York, the team and how they're a first-class organization. It made the transition so much easier. Obviously I would love to be in Ottawa, but things happen for a reason and I love to be here."
Like Lundqvist, Zibanejad hopes to bring home the cup this year.
"That's what you're playing for," he said. "You're hoping to make a good impression in the regular season and put yourself in a good spot. Coming into the playoffs, anything could happen."