NEWS
'High School Musical: The Ice Tour' takes NYC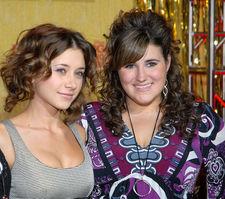 The world premiere of High School Musical: The Ice Tour brings out Disney Channel stars including HSM's Olesya Rulin, Ryne Sanborn and Kaycee Stroh, plus the super-adorable Madison Pettis, who stars in Cory In The House and the number-one box office smash The Game Plan.
While Prince Charming and his 13-year-old niece nosh on an endless array of cheeseburgers, pigs in a blanket, rigatoni, chicken fingers, brownies, blondies and more during the VIP reception, I hit the red carpet to chat up the Disney darlings. Although Ashley Tisdale (who is part of the ) sends regrets, Mickey and Minnie Mouse start the party in their Wildcat cheerleader outfits.
Article continues below advertisement
"How are the basketball scenes going to happen on ice?" Olesya, 21, wants to know. She confesses to me that she didn't do theater in high school; debate was her bag. "I have a public speaking award." She calls life on the Disney Channel "a refresher course for the world because it's not drama-filled." But that's not the same as dealing with her newfound fans! "It can be a little like 'waah!' It's intense when you're at the airport in the bathroom, and you're like 'whoa, I'm trying to get my stuff together.' It's a wonderful blessing though."
Did Olesya get to know Zac Efron and Vanessa Hudgens? "We'd go to Olive Garden a lot, and to Starbucks and there's a burrito place we'd raid. We're like a family – we all get along."
Ryne, 18, tells me he wants to join The Ice Tour. "I've been playing hockey since I was seven," he says. "I asked them if I could come out and skate with The Ice Tour, but I'm just going to watch today, which is relaxing." What does he think of the fans? "They're so cute; I love all of them. They are so loving, caring and involved in our lives. They've watched the movie a hundred times!" He describes Zac as a "best friend," and Vanessa as a "homegirl." "They look good on film," he winks.
Article continues below advertisement
Kaycee, 23, who was a dance teacher in Salt Lake City, Utah, before HSM came along, tells me she can't wait for her close-up in the audience tonight. "I feel so blessed to be part of the phenomenon. It's a dream come true." What was she like in high school? "I was friends with everyone. I was a cheerleader, but I fit in with the drama nerds. High school's the best time in your life and the worst time of your life because you're trying to figure out who you are." She calls Zac and Vanessa "gems."
MORE ON:
Red Carpet Confidential
Sweet-as-pie Cory In The House star Madison Pettis, 9, rides in a limo with Olesya and giggles that she's ready to sing along to all the High School Musical songs.
She's now starring in family comedy The Game Plan, and Dwayne "The Rock" Johnson plays her father. "Dwayne was almost like a daddy to me," she tells me. "He was always asking me 'what'd you have for breakfast this morning?' because he wants to make sure I'm eating healthy. He was looking out for me."
Article continues below advertisement
What's the best part of being a Disney star? "I watch Disney Channel all the time, and when I go to Disney parties, I still get starstruck with Miley Cyrus and the Jonas Brothers. They're big stars to me. I guest-starred on Hannah Montana. I got to eat lunch in Miley's dressing room and play with her dog. She's really nice and sweet."
After the red carpet wraps up, we grab our gift bags jam-packed with HSM goodies and head to our seats. OMG, is that Zac, Vanessa and Ashley on ice? They cast nearly-identical look-alikes! The skating show is amazing, and the kids in the audience are having the time of their lives.
Catch High School Musical: The Ice Tour on its trip around the world through May 2008.
Watch out for the basketballs. (How do they do that?!)