NEWS
Highest Paid Actresses Revealed: Angelina Jolie & Sarah Jessica Parker Got Bank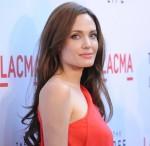 Recession schmecession. When it comes to Hollywood, all that glitters is indeed gold and by that we mean despite the abysmal economy, certain stars are still raking in the cash. A new list was published indicating the top earning actresses and it's no surprise that Angelina Jolie and Sarah Jessica Parker tied for first place, each having earned $30 million the past year!
OK! GALLERY: MADDOX & PAX JOLIE-PITT SPLASH AROUND IN THE MEDITERRANEAN SEA
Article continues below advertisement
Forbes' list was compiled by talking to producers, agents and insiders to estimate annual earnings. Angelina's income of $30 million can be attributed to a few things such as a leading lady playing an action hero. In fact, her role in Salt was originally written for Tom Cruise!
OK! GALLERY: ANGELINA JOLIE LETS HER TWINS PLAY DRESS UP IN MALTA — SON KNOX SPORTS TUTU & WAND!
No slouch in the income department either, SJP's income stemmed from Sex and the City sequel but that's not all. She's designing with Halston now and her fragrances earned $18 million alone during the past year!
MORE ON:
Katherine Heigl
Get The Top 6 Celeb-Loved Skincare Products For Under $60, Used By Alexandra Daddario, Alicia Keys, Katherine Heigel, Lori Harvey, Ruby Rose, More — Shop Now
Slammed By The Stars: Kim Cattrall, George Clooney, More Spill The Tea On Toxic Work Environments, Horrible Costars, Terrible Projects
OK! GALLERY: SARAH JESSICA PARKER TAKES IN THE WARM NYC DAY
Not trailing far behind, Jennifer Aniston and Reese Witherspoon came in next on the list, both earning approximately $28 million last year. As for fifth place, that's another tie as well. Julia Roberts and Kristen Stewart earned $20 million.
Next up, Katherine Heigl earned $19 million and Cameron Diaz a sleek $18 million. Rounding out the top ten, Sandra Bullock earned $15 million and Meryl Streep a mere $10 million.
Is there anyone you were shocked to not see on the list? Tina Fey, anyone?