NEWS
Hilary Duff Makes Love 'War Inc.'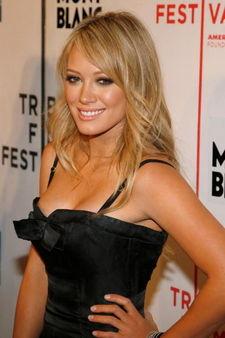 Hilary Duff denies her engagement and tells me she "doesn't know" why she and boyfriend Mike Comrie are good together at the Tribeca Film Festival premiere of War, Inc.
The Duffster shakes off my question with a pained face and flick of the wrists as she walks away, disappointing the slew of reporters shoving their tape recorders out.
Oh well. She will talk about her date with the scorpion down her pants in the thriller. Hilary, 20, plays an oversexed Eastern European pop star.
Article continues below advertisement
"Working with the scorpion was scary," she says. "It was real. We did it about four times. They were like 'we have a fake one here, but it looks terrible' and I was like 'I've done this for the movie, and this and this and this' – I can't back out now. I've gotta go for it. All the guys on set were telling me that they would never do this."
Hilary is on her way to join sister Haylie inside the theater as co-star Marisa Tomei is escorted inside by her team without a word for anyone. (What's up?)
Luckily, Montel Williams and wife are happy to chat.
"I'm just the voice," he tells me. "I'm excited tonight because I get to see it for the first time."
Director Joshua Seftel tells me the scorpions got special treatment on set.
"We had two. We had an extra scorpion in case one of them got tired. This is the first movie I've worked on that had a scorpion wrangler on the set, and they were in charge of the scorpions."
He assures me Hilary was safe just in case anything went awry.
He adds, "It was so brave and bold and smart of her to do this role. I loved that she embraced it."
War, Inc. opens in limited release May 23.
Pick up the OK! on newsstands now for more coverage of the Tribeca Film Festival.