NEWS
Hilary Duff's Dream Wedding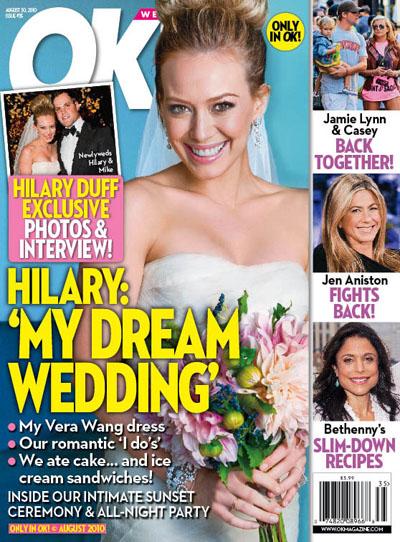 Hilary Duff Wedding: The star says "I do" to her hockey player love, Mike Comrie — OK! was invited exclusively to share their big day. Check out the photos and interview with the bride herself as she talks all about her special day and her new husband. Plus, learn all about Hilary's Vera Wang-designed dress.
Jamie Lynn Spears: Jamie Lynn and her ex Casey Aldridge are back together after spending time with their daughter, Maddie, in Nashville, as Jamie Lynn works on a country album. What made them finally give it another shot and what did her sister, Britney, have to do with it?
Article continues below advertisement
Best of the Week: Jennifer Aniston fights back against Fox News' Bill O'Reilly, Matt Lauer lashes out at Dina Lohan and The Bachelorette's Ali Fedotowky and Robert Martinez want to be just like Ryan and Trista Sutter!
Plus: Katy Perry is ready to wed fiancé Russell Brand as she is "planning and planning!"; Zac Efron and Vanessa Hudgens' relationship is the real deal!; Hollywood Cutest Kids Special: Check out how kids from Suri Cruise to Kingston Rossdale have changed in their style. And find out how to get their looks!; Host Jimmy Fallon takes OK! inside the Emmy Awards! Plus, take the quiz to find out if you're a Gleek!; Slim-down recipes with Bethenny Frankel; Check out the daily diet of pop star Ke$ha!; Lasting impressions with Jersey Shore's Pauly D.