NEWS
Hilary Swank Talks Bodies, Babies and Sleeping in the Buff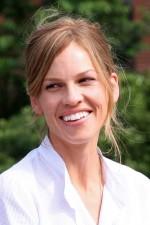 Marilyn Monroe famously confessed to sleeping in nothing but a dab of Chanel No. 5, now Hilary Swank admits when it comes to nighttime attire, she'll choose her birthday suit over a pair of PJs.
"I don't sleep in anything," she tells the November issue of Marie Claire magazine.
"My boyfriend's son is 6 years old, and you wonder at what age you should stop walking around nude.
"Every morning he comes into the bedroom, and you're just nude. But he doesn't look twice; he doesn't think about it yet.
Article continues below advertisement
"I just toss and turn too much when I sleep, and if I'm in clothes, I get all twisted up."
The star of the upcoming biopic of Amelia Earhart, Amelia, also opens up about the friends in her life.
"For a long time, I was a loner because Chad Lowe, Swank's ex-husband was my best friend, and we were really happy just hanging out, he and I.
"I think it was maybe five years ago that I realized how important my friends were to me, and I realized they were a big part of my letting go.
"When I got divorced three years ago, I needed them more than ever. I have really good girlfriends. Mariska Hargitay is my best friend."
And although she's won two best actress Oscars, 35-year-old Hilary — who's dating her agent John Campisi — will only consider herself really successful when she has a child.
"For me, my career is like, for lack of a better word, a baby," she says. "I always knew that I wanted to act, since I was 7 years old. But also from that age, I've been thinking about the day that I would have kids.
Article continues below advertisement
"When the time is right, I'll know... the timing has to be right."
So how does the super-buff star maintain her incredible bod? "I love working out! I started swimming when I was 3 years old. I was a gymnast, a swimmer, a basketball player.
"To me, working out is literally like eating a meal or drinking water or breathing. If I don't, I just feel like crap. Not physically, like, Ew, what's hanging over my pants? But I just feel really ornery.
"I start punching actors. Not hard—I don't get mean. I do Krav Maga, which is Israeli martial arts; I do pilates."