NEWS
Hillary Clinton Is a Dancing Queen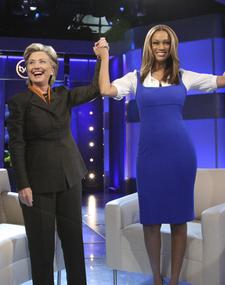 If Senator Hillary Clinton wins the 2008 presidency, will she celebrate her victory by boogying down? It sure sounds like it.
The presidential hopeful, who just triumphed at the New Hampshire primary, sat down with Tyra Banks for an interview to air on the model's eponymous talk show on Friday, and reveals her hidden talent — dancing.
Faced with the hypothetical of competing on either Dancing With the Stars, American Idol or Tyra's own America's Next Top Model, Senator Clinton made it clear what her choice would be.
Article continues below advertisement
"In my dreams I would be on America's Next Top Model," she says. "But in reality I would have to choose my limited talents and of them dancing is better than singing. You do not want me to sing. I think it would have to be Dancing With the Stars, especially if I could have one of those really good partners."
Though she doesn't specify her dance of choice, the 60-year-old is hip to what the kids are doing these days, admitting she knows the Soulja Boy and SpongeBob dances.
"I think that is a variation of what I did like 30, 40 years ago," she says. "Everything gets recycled and gets a different name and changes slightly, the hip action or shoulder action, whatever it is."
Something that may need an update soon is husband Bill's title should his wife win the election.
"There are some of the things that have been suggested like First Mate. His Scottish friends say 'First Laddy,' but we need ideas," she says. "I'll just keep calling him Bill."
For the full interview, tune into The Tyra Banks Show on Friday.