NEWS
'The Hills' Says Goodbye After 12 Final Episodes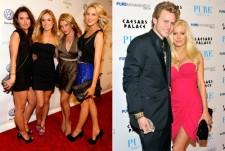 Break out the Kleenexes! The upcoming sixth season of The Hills will be the last. MTV announced today that the final season of the hit MTV reality series will air April 27. That means we'll need to cherish our TV moments with Heidi Montag, Spencer Pratt, Kristin Cavallari, Brody Jenner, Audrina Patridge and the rest of the L.A. gang!
"We are lucky and honored to have worked with this cast and tell their stories for this long, and we are grateful to the many dedicated fans who have stuck with us over the years," Tony DiSanto, president of programming at MTV, said in a statement.
Article continues below advertisement
"We owe it to those fans, the cast and the show to go out on a high note. And this season will deliver on that goal in terms of drama, story, real emotion and an organic culmination of this saga," he added.
OK! NEWS: HEIDI MONTAG CAN'T WAIT TO WORK WITH JENNIFER ANISTON
So what's in store for fans in the final 12 episodes? Audrina dating singer Ryan Cabrera and Kristin Cavallari contending with rumors of drug abuse, according to MTV news.
The show will also examine several other unanswered questions from season five: Will Kristin and Justin Bobby last? Was that really the last time Audrina and Justin Bobby will ever speak to each other? Will Brody actually break up with Jayde? And will Heidi and Spencer ever spawn a baby Speidi?
OK! GALLERY: KRISTIN CAVALLARI GETS CONFUSED BY CAMERAS
"I think we've told the story of struggle and of finding yourself in L.A.," creator Adam DiVello said. "A lot of these kids have found themselves and have certainly embarked on different careers and different paths."
Article continues below advertisement
Heidi's plastic surgery also makes its way into the final season, including a very intimate scene when Heidi first reveals her new look to her mom.
"We tell the whole story," DiVello said. "We pick right up where Heidi goes and sees her parents. And our cameras are there that minute the mother opens the door and sees her daughter for the first time."
Executive producer Liz Gateley added, "It's a really touching but heartbreaking scene to watch."
Wonder if veteran Lauren Conrad will make an appearance?
"I always joked it would be nice to see Lauren get married," DiVello said.
Check out what Kristin and Lo Bosworth hope to see in the final season: